Dear valuable visitor,
welcome to our online shop. Please take a look around and discover the latest products from WIZnet - the hardwired TCP/IP provider.
June 2018

: IoT Tech Expo Europe 2018

WIZnet will have a booth (#115) at the IoT Tech Expo (https://www.iottechexpo.com/europe/) taking place in the RAI Amsterdam on the 27-28 June 2018. You can meet a part of the WIZnet Germany team there.
June 2018

: W5100S released

WIZnet has officially released W5100S in two versions (LQFP and QFN). It is a more cost-effective version of W5100 and software compatible but with a different pin layout.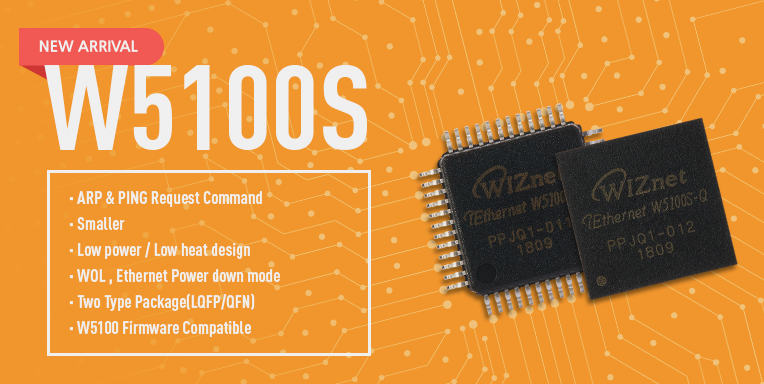 Information about the chips can be found by clicking on them
May 2018

: WizFI210/WizFi220 end of life

The WizFi210 and WizFi220 have reached their end of life. There is only a limited time left where all related products can be ordered. The last order date for our customers is the 30th of June 2018. Please contact us in case you have inquiries for the WizFi210 or WizFi220.
Best Sellers
New Products
In case you have any questions please feel free to contact us by mail shop@wiznet.eu or phone: +49-6239-80988-0 any time.
Yours sincerely,
the team of WIZnet Germany.