Details
Product description
The WIZwiki-W7500P platform is based on the latest chip in the WIZnet family: W7500P. The IOP4IoT W7500P chip is the one-chip solution which integrates an ARM Cortex-M0 (including 128 kB Flash) and the hardwired TCP/IP core for various embedded application platforms, especially for Internet of Things applications. The TCP/IP core is a market-proven hardwired TCP/IP stack (W5500) with an integrated Ethernet MAC. By using the WIZwiki-W7500P the customer will be able to easily develop a prototype, which can be used as an Arduino shield, as it is fully pin compatible with Arduino products. This is made possible by using the CMSIS-DAP USB and ISP Header which easily makes firmware writing available.
This board incorporates the 3rd (latest) Revision of W7500P. W7500P-R3 is recommended for new design.
A 4-digit datecode is printed on every chip identifying the week of production. Datecodes greater than 1720 (year 2017, week 20) mean the chip already is Rev. 3 which has improved stability. In case you have any questions please feel free to contact us.
Features
W7500P
ARM Cortex-M0 Core (48 MHz, 128 kB Flash, 16 kB RAM)

Internal Ethernet PHY: IC+ IP101G

MDI Interface

32 kB RAM for TCP/IP - Can be extended to system RAM

Hardwired TCP/IP Core

8 ADC

34 GPIO

SWD (Serial Wire Debug)

Timer/PWM

3 UART

2 SPI

2 I2C

dimension: 64 LQFP (7x7 mm)
CMSIS-DAP
LPC11U35FHI33/501, ARM Cortex-M0 Core, NXP

Drag-n-drop programming

USB Serial Port

Easy to use C/C++ SDK
Available Connectors
USB Mini B Type

Slim Size RJ45 (with transformer)

Arduino pin compatible headers

Xbee header
More features
5V USB or 5V header power supply

2 system switches - RESET & BOOT

1 user switch

RGB LED

Micro SD card slot
Related Links
WIZwiki-W7500P official documentation in the WIZnet Wiki
W7500P official documentation in the WIZnet Wiki
More references for WizWiki-W7500P in the WIZnetMuseum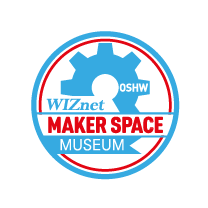 Additional Information
| | |
| --- | --- |
| Dimension | 84 x 56 mm |
| Ethernet I/F | Internal PHY |
| Operating Temperature | -40° to +85° Celsius |
| Operating Voltage | No |
| Functions | No |
| Auto Negotiation | No |
| Network sockets count | 8 |
| internal DPRAM buffer memory | 32 kB |
| Package | No |
| pin count | No |
| auto MDIX | Yes |
| Wake on Lan | Yes |
| Power Down Mode | Yes |
| typ. Power Consumption | TBA |
| MCU core | ARM Cortex-M0 |
| Core speed | 48 MHz |
| RAM | 48 kB |
| ROM | 128 kB |
| I/O ports | No |
| SPI (max. speed) | 80 MHz |
| MCU I/F | No |
| PHY chip | IP+ IC10GA |
| Related Chip/Module | No |
| Connector Type | No |
| Serial I/F | No |
| serial connector count | No |
| Ethernet connector | No |
| pin pitch | No |
| voltage regulator (LDO) | Yes |
| MAC address inside | Yes |
| PoE possible | No |
| MII | Yes |
| Ethernet Speed | 10/100 |
| UART (max speed) | No |
| parallel memory bus | No |
| Debug I/F | 34 I/Os |
| Manufacturer | WIZnet |